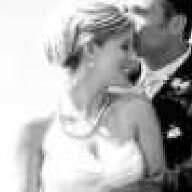 Joined

Aug 27, 2007
Messages

904
So, we are having our ceremony outside and I am really having a hard time finding wedge shoes that I like. I thought I would have to wear wedges because spikes would sink into the grass, but I would much prefer to wear heels.
I''m thinking of maybe getting some thick rugs, like industrial type rugs to put down the path I will be walking down to get to the aisle, and then down the aisle. Maybe put some cheap white fabric over them? Or I was considering getting cheap sheets of plywood and putting fabric over that, but I think that will make a weird sound when we walk on it.
Is anyone else having the same dilemma? Are you wearing wedges? I really don''t want to wear flats because I love the shape of the skirt on my dress and if I cut off too much at the hem it will lose some of that flare....plus I just feel better in some heels!!