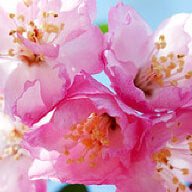 Joined

Nov 12, 2006
Messages

1,084
Hi all
Well, I figure all the money I''m saving on DIYing my own flowers will certainly be blown on the actual containers to put them in! I went to my local flower shop today and made a very cute hydrangea-in-a-glass-cube-vase centerpiece today....we really love it but it cost us $6 for the vase and $9 for the Hydrangea (3 stems x $3). Oh, and I didn''t like being able to see the stems through the glass so I covered the vase with some ribbon I had lying around the house. So about $16 per centerpiece. Not bad. But I want to see if I can do better.
Flowers: I like the full look of hydrangea, as many of you now know

and I figure I can achieve the same look with carnations and do it for even cheaper. Plus fiftyflowers.com has both a really pretty sage green and purple carnation for sale. Further, carnations are superior in the heat of August
Not the most elegant flower going, but I think the way they are presented will make a difference.
Container: However, I''m wondering if we could use things other than glass for our centerpieces. Like cube gift boxes or even cube-shaped tins. I presume we''d have to line them with plastic and use Oasis foam but......they are SO much cheaper than glass! Has anyone used this kind of thing for DIY centerpieces?
Here''s a pic of my hydrangea centerpiece.: