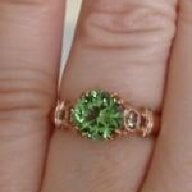 Joined

May 1, 2011
Messages

509
Hi - I'm a new user from the UK, and (as I'm sure many have said before me!), I know very little about gems other than I love far too many of them!

I would really appreciate your advice and expertise. I'm looking to source a cc garnet for my engagement ring: looking for 1.5-2cts if possible, and a round stone, but very flexible if I can get a cleaner gem/gorgeous cut/amazing colour change. Budget - I guess up to £250?
I would love to get a green-orange stone, like this one:
http://cgi.ebay.co.uk/ws/eBayISAPI.dll?ViewItem&item=320295172262&ssPageName=STRK:MEWAX:IT
I would even consider buying this simply because I love the colours so much, but there's no video, and I'm assuming it'll be quite included. I'm looking to set the garnet in yellow 18k gold - probably a simple setting from LOGR - and it would be brilliant to be able to come in under £600 all told (trying to include the setting in the UK in that).
Am I aiming too high for that budget? And are there any other UK-friendly places to source cc garnets so I can widen my net?
Thanks for reading!
Nat x