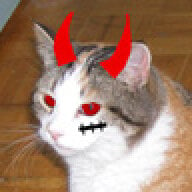 Joined

Nov 19, 2004
Messages

3,450
Hey everyone,
Sorry for not having an update sooner. I had another killer exam which has left me emotionally and physically drained (I''m sick with combined flu/tummy upset) and I can''t figure out when this stupid school is going to give us a reasonable non-ridiculous exam that acutally represents what we learnt. I''m thinking in my head I might have failed the year, and will have to retake it, but I''m at peace with that. I''ve given everything I have to this program, to doing well, and if it doesn''t happen, it doesn''t happen. An extra year will not kill me. It will be sad, and suck but it''s not the end of the world.
Two weeks ago, FBIL''s parents were all set to buy them their house and I listened to long rantings about how "barely any one could afford a house like this," and how the cielings were so high he couldn''t figure out how to paint them (yes....the cielings are the exact same height as those in every other house I''ve seen, including mine...) So gritted my teeth, they went through the inspection, through the offers and it was all set. And THEN my mom voiced objections that she wasn''t involved in the process so they pulled out of the house-buying (although my mom''s objection is to the marriage and she feels if they buy a house then it means that they should be married first) and so they pulled out of the deal. However, this made my sister extremely nasty and hostile, and even more determined. So after a week of the most foul language, head pounding screaming, and unimaginable nastiness...I caved and gave her the wedding date and promised not to have a wedding in 2007 or 2008. Which I do feel terrible about because all of you were so encouraging and rooting for me, but I couldn''t take it anymore

. I have never been subjected to that much pressure from my parents, my sister, everyone. So I''m really sorry about that, I wish I could have been stronger, but I feel so beaten at this point (from all sides imaginable)
Since then, my baby and I have been talking, and we''ve thinking of eloping in April/June 2008. Actually we might even do it this year, if I can get some time off. I was watching the Instyle Wedding and the Tori Spelling wedding, made me cry because I wanted that so much. I really want it to be about us, and we figure that it will be a special day, and when we get back we just won''t tell anybody. We''ll have some sort of ceremony in 2009 which will probably be filled with all sorts of drama and nastiness, but at least the really important part will be untarnished. If my family finds out, they will disown me. If his family finds out, they''ll probably never speak to him again (it makes me sad that his mom won''t have the church wedding she dreamed of) but we''re really good at keeping secrets, and all of them are all a little.....uhmmm unreasonable. And I know it''s going to cause this huge after-shock with my parents freaking out, and all sorts of recriminations. But if we are really careful, they will probably never know.
I haven''t spoken a word about this to ANYONE. Because I don''t want anyone to know, and I feel really guilty about even contemplating this. So what do you all think? Crazy? Really, really morally wrong? Decitful? (yes I know it is, but my parents were being fair about thing, nor about the whole situation. I don''t think it''s reasonable to actually consider the request of one daughter to disown the other).
Thanks everyone.