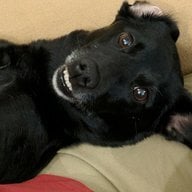 Joined

Sep 1, 2009
Messages

9,929
"A" left an art project on the floor of her room (yes, I told her to pick it up and thought she had... Next time I will check). We just got home to find two cats chewing on pieces of it. This was a paper mache mask. I think the dog carried it out. Some combination shredded it. Think large confetti size.

Foil, newspaper, a bit of glue, and whatever paint they used in school last year. At least one cat and probably two were eating little pieces.

I have no idea how much they ate or even for sure who did or didn't eat.

How worried should I be? I have never had a cat eat foil before. Quick search turns up either it is no big deal or it could perforate stomachs. I don't want to load everyone into the car to go to the emergency vet for xrays but I don't want anyone to die or suffer because of this.

Ideas?