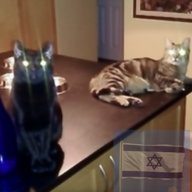 Joined

Jun 8, 2008
Messages

52,218
Gypsy|1450942324|3965674 said:

Andelain|1450939101|3965663 said:

Gypsy|1450936310|3965638 said:

Oh crap. Penny ignored the tree by itself ( up 48 hours alone). Ignored the tree with lights (up 24 hours alone). But the minute mommy pulled out the shiny stuff and started hanging things on the tree... she's now INTRIGUED.

Intrigued is a VERY VERY BAD THING. With an oddly athletic, oddly spazzy 1.5 year old energetic kitty.

Uh-oh.......................

Well, I gave her a talking to.

I told her that if she knocks down the tree or breaks the ornaments she is going down in history as our worst cat ever. Especially as she's peed on Mommy twice already (she has).

So we'll see.
Happy Christmas Eve all!

Uh oh watch out Gypsy. I hope your kitties are better behaved than mine because you might have noticed no ornaments on our tree this year and that is because of the kitties. They broke enough of our beautiful glass ornaments from the 1950's,60's, 70's etc that were collected over time (in my dh's family for decades) that we said enough for now and didn't put them up (yet) this year. We always bought a real tree in the past and they were still aggressive with it and this is our second year with the Balsam Hill tree and last year there was no climbing. With the real tree they did eat the branches and it was a constant get away from the tree thing going on lol not sure yet about them trying to eat this tree...So who knows.
Last night just before bed they started getting more rambunctious. Including a pic or 2- sorry for the messy tree and lights-blame the kitties. It was perfect when we put it up haha and well let's just say when we woke up this morning I was quite relieved to see the tree had not fainted. Nothing to see here let's take it away from the tree dear kitties... :big smile:
As for the peeing on her mommy well that proves it. You are hers forever.