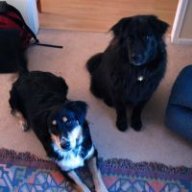 Joined

Aug 10, 2007
Messages

794
I have a bit of a problem. My dog, Edgar and the dog we are watching for a friend found a cat and kittens on Sunday. I am sure the cat thought where she had the kittens was very safe: between a firewood pile (in neighbor''s yard) and our chain link fence, which is next to some moderately heavy bamboo.Unfortunately, Edgar just cannot let it go. I kept checking at a distance yesterday and this morning, hoping that she had gotten smart and moved the kittens. Unfortunately, no! I tried piling some of the firewood and an old board on our side of the fence, blocking Edgar''s access to the family, but it doesn''t matter. His instinct overrides it, and even with me standing there trying to get him away, he just won''t stop.
Now, I don''t really mind having to leash him and walk him to get him to go to the bathroom, but I have a puppy arriving on Saturday (!!!

) and I don''t know how I can handle puppy and Edgar without access to our yard for playtime. Even now with the visiting dog its made it a lot more difficult, as they used to go out and play a lot and work off some energy, not to mention the visiting dog seems to have an unfortunately small bladder for her size

, and needs to go out more often.
The kittens are small,their eyes not even open yet that I can tell. Should I wait a few more days for the mother to (hopefully) move them, or contact a rescue group now (I will not call animal control, don''t want them killed)? I don''t believe this is anyone''s cat, but I plan on going over and knocking on this house''s door to ask if they know. They are behind and to the side of us, so we do not know them.
Any advice is greatly appreciated!