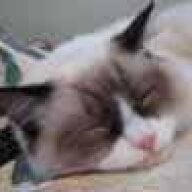 Joined

May 9, 2004
Messages

5,609
As some of you know, we have a kitty, Buster, who is now 10 months old. We have had him since he was a baby, and we just adore him! BUUUT, he is making me rather distressed lately!
He was a VERY loving, friendly baby... but the older he gets, the more independent and less "affectionate" he is getting.

He hardly seems to want to be held, cuddled, etc. We want a LAP CAT, dangit, and he just isn''t cooperating!

Do any of you have any tips or experience on how to make a cat more affectionate and loving? Could this maybe be a *phase* he''s going through - typical for his age - and maybe he''ll outgrow it and possibly become more affectionate again as he grows older?!
Thank you!
Lynn