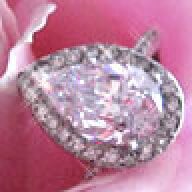 Joined

Jan 25, 2005
Messages

12,145
Thanks for checking in you guys! I hope that this shot does the trick. I was looking at some pics I took of her in November and she was fine, no eye discharge or anything, so I''m really hoping this is seasonal and the shot will help.



Date: 3/5/2007 3:32:50 PM
Author: diamondfan
Firegoddess, does allergy typically affect one eye only? I ask because Maya (dog) had that issue and the eye specialist said allergies would affect both eyes...also, have you tried pill pockets for cats? you smush it all around the pill and it really disguises things. Maya got to the point where she would not eat her food even after I stopped putting meds in it, and she is an EATER so it was worrisome to me. Petco usually has them...I would rather get a benadryl in her at home than have to go to the vet or do shots myself...the pill pockets are worth trying!
Diamondfan, I don''t think it typically only affects one eye. She does get a little discharge from the other eye but it''s a very small amount and not constant like the eye that is bothering her. I did try the pill pockets on Saturday but Chloe wants nothing to do with them. She won''t even eat them when they''re empty now, because she still thinks I''m trying to give her a pill inside. Stubborn cat.