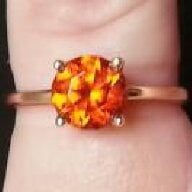 Joined

May 12, 2006
Messages

6,380
Date: 2/9/2007 10:27:47 PM
Author: FacetFire
I just wanted to share that I just this week got a new job and rewarded myself by buying that Cartier rolling ring (with the little diamonds) that was on Signed Pieces when it went on sale for their Valentine''s sale. I was going to get it for my middle finger, which is a size 7, but they called me and said that they had mis-typed the size and it was in fact a size 6...which fits me right hand ring finger, so that''s okay. I do wish it fit my middle finger, but I love it so much, I''m going to keep it anyway. It is heavy and rolls so smoothly...I''m hooked! I definitely recommend this ring for those of you who are considering it...it is very comfortable. I''m going to take pics soon, but I haven''t had a chance yet.
GREAT I can''t wait to see the hand shots. You deserve to splurge a little! Congrats on the new job.