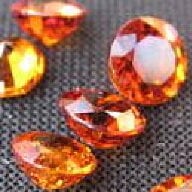 Joined

Apr 2, 2006
Messages

11,009
Or, Holy Moly, that is one included diamond!
This is my father's carbonado, AKA very heavily included black diamond, ring. I'm sure many people look at it and wonder why on earth anyone would set such an ugly rock in gold, but I love it - trust me when I say that this iphone shot does not do it justice! This is my favorite of the colored gemstone rings passed down through my father's family. (There are also two rings with natural blue star sapphires, and one with a star ruby.) The art deco setting puts this ring in the twenties or thirties, but I'm not sure whether my grandfather or great-grandfather originally had the ring made. Both of them, and another "great" or two before them, loved gemstones and fine jewelry. I've always said I come by my bling obsession honestly!
Carbonado is diamond and it is made and mined like other diamonds. Nonetheless, wearing this ring makes me feel like I'm wearing a little bit of meteorite on my hand!