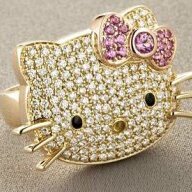 Joined

Jan 5, 2009
Messages

356
Date:

2/10/2009 8:26:35 PM

Author:

musey

Date: 2/10/2009 7:07:14 PM

Author: Daisi2112

I guess 1ct is a popular carat weight for most rings.

Definitely. A lot of people (vendors and consumers alike) tout 1ct. as being the ''magic number'' to shoot for as a minimum. It''s pretty silly, IMO. I think a .4ct in a beautiful setting can be every bit as beautiful (if not more so!) than the bigger rocks out there.

In fact, the most beautiful ring I have EVER seen had a .6ct stone in it!!
Ditto to that! I have seen some gorgeous smaller diamonds that were very well cut in beautiful elegant settings, compared to some really big rocks (they are pretty) in really unflattering settings that take away from the beauty of the diamond.