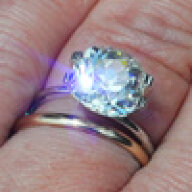 Joined

Nov 22, 2010
Messages

525
The Martha Stewart Weddings Winter 2011 issue had the most beauuuutiful rose cut oval ring on the cover. I have not been able to get that diamond out of my mind. So I found a nice clear (I think) rose cut oval diamond online (a true vintage cut not a new cut one) but it is in a vintage foil backed setting I don't like at all. One of the problems with this diamond is that the foil backed setting is making it hard to see what the clarity of the diamond really is. It appears clear, but I do see a few specks (on a macro lens photo) but not in normal lens photos. The GIA gemologist is fairly certain the specks are on the foil backing and not on the diamond. Okay so the diamond ring has a good return policy BUT obviously I can't remove the diamond from the ring to see its clarity and then send it back.


GIA geologist says diamond is more than likely a J color and appears amazingly white face up--from the photos I agree, it is amazingly white. Again the foil backing may be hiding that the diamond could be a higher color. Size of diamond is 1.50 carats (13.0 by 10.1 mm) and cost is $4550.

Knowing that I am a true vintage cut lover and that $4550 isn't a huge amount of money for me--but yes, I would be disappointed if the diamond had obvious black inclusions after I took it out of its setting.

I have 3 questions for you all

1. Would you throw caution to the wind and take a risk on buying this ring? Or would you run the other direction fast as you could?
2. Would you consider it a sinful tragedy to remove said diamond from a really ugly big --kind of man like gold bezel setting from the 1920's?
3. Any setting ideas? I like vintage settings, and do not like East/West settings.