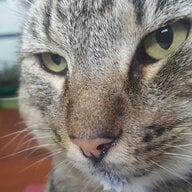 Joined

Apr 30, 2019
Messages

12,990
@Daisys and Diamonds

,my youngest has dysgraphia. His writing is a little better because we took him to a therapist who specialized in it for a couple summers. I can't tell you how many teachers thought he was just sloppy and lazy.

I almost always write in cursive. My handwriting is pretty good and I often get compliments but I usually don't its as good as others say. I look at it and think it's messy. I had typing classes wayback in high school. At my school you could take it for three years! I loved my IBM selectric! I usually typed all my kids school papers until #4 because he had his own computer. The other s used the house computer. I could type them in just a few minutes without looking at the screen or my fingers. I don't get that much practice these days, so I am not sure I could do that anymore. Not as good on an iPad or similar device because you can't feel the keys.
i think the year before last one the news was this girl doing her exams
in one particular subject she got the highesr score in NZ and she had a writer to do the writting for her
at high school i did ok in English because yiu could only loose so many marks for spelling and presentation. its really encouraging my the time your brother got to school it was a recognized thing and he got some help
does he have the pain when he writes nest ?
honestly back in 1985 who knew computers were going to be such a huge part of our future ?
we should have all taken typing but it was a dying art and i don't think my school offered pitman's short hand by then
my parents spent slot of money on spelling lessons for me through my high school years but it did no good because i have no pattern to my spelling mistakes and a dictionary is useless if i don't know what the 2nd letter is going to be
when i discovered about dysgraphia a few years ago my mum already had altzimers so i couldn't tell her i wasn't dumb or lazy