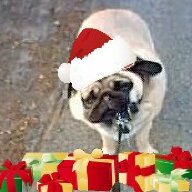 Joined

Oct 25, 2006
Messages

1,789
My dog- well, he (we) have been very unlucky in the health department. He was diagnosed with Addison''s disease as a very young puppy. One day he just didn''t want to eat/drink/move. I took him to the vet where they ran all the expensive tests and told us he didn''t have much of a chance because he had kidney failure. But luckily it turned out to be Addison''s disease which is very manageable. We give him an injection every 26 days and thats about it. The amazing thing to me was how many people voiced their opinions that we should have put him to sleep. This was AFTER he was okay again. Yes, the total bill was a couple thousand dollars,and we were poor college students, but he was okay and I felt it was our responsibility to help him if we could.

By the time Oliver was 4 years old, he began dragging his legs and we knew something was wrong again. An MRI revealed Disk Disease, as well as a tumor in each Kidney. We chose not to deal with the Kidney tumors because they were small and not causing any problems. There was nothing we could do about his disks because there is so much damage and the spinal cord is pinched. So Oliver has been very gradually losing the use of his hind legs. We have a wheelchair for him but it doesn''t get much use because it actually trains him to not use his legs at all. Lately, he is starting to lose control of his bladder and bowels.

Again, everytime I talk about my dog, people tell me to put him to sleep. They treat me like I am selfish for "keeping him alive." Okay, he doesn''t have any life threatening issues. If he was suffering, I''d be relieved to put him down. But he isn''t really suffering. He doesn''t seem to notice the difference and he isn''t in any pain.

But DH and I were talking tonight, and he thinks Oliver is depressed and is not the same dog as he was a few years ago. I just don''t see it, but I don''t know what a depressed dog looks like. Oliver sleeps all day, but he is 7 and a pug, and I thought that was normal. He can''t go for walks anymore or play outside. He''s never played with toys like other dogs do. The only pleasures in his life are sleeping on a warm lap, eating, and going on the occasional car ride (even though I can''t let him out of the car). So how do I know if he is depressed?