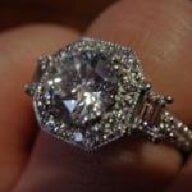 Joined

Aug 31, 2005
Messages

2,844
Good Morning Ladies,
I''m in the market for a new wedding band. I''m wondering if you could show me your hand shots with bands that are 3.5mm to 4.5mm. I''m looking to wear it with my E-Ring..so I can''t get anything too thick. I''m wearing a 3mm now and it looks ok but it''s a cz eternity (my real wedding band hasn''t fit in many yrs). SO since I know I will not be a sz 6 again and the original wedding band doesn''t match my e-ring style (which was an upgrade for our 10th anniversary)...I thought it''s time to buy a new wedding band. I''m attaching the link to my e-ring.. ( https://www.pricescope.com/community/threads/my-ring-pics-from-
wf
.34178/). I will take any suggestions on rings. I contacted
WF
to see if they could make me something that looks like the Beverly K (link listed below) and they said they can do it as small as 3.5mm. Not sure if that would be too small. I really need to make a B-Line to a jewelry store to try on some bands and check out the widths.
I''m going to see if I could try on some rings this week. I love the Beverly K ring
(here''s the link to the pic https://www.pricescope.com/community/threads/anyone-have-or-seen-this-beverly-k-ring-in-person-im-in-love.106326/ ) but not sure if I should do a reg. eternity band..or something else. I love vintage inspired rings...so you see I would use help trying to visualize how the rings look on the hands with your pics.
I know I''m asking for a lot..but I need any help that I can get. I don''t have a lot of time to rush out today to the jeweler (have a newborn at home)...
Thanks a million!!!
Annette