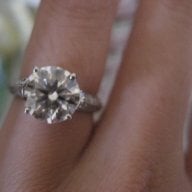 Joined

Sep 16, 2006
Messages

1,045
Date: 4/2/2007 7:51:59 PM
Author: diamondseeker2006
I don''t think everybody here really gets this. There is absolutely no difference except whether you spit out the water or whether it is suctioned! The dentist sprays the water in your mouth to rinse the teeth either way, so it''s just a matter of how the water is removed from the mouth. I think the suction is much less gross than spitting in the sink!
I think there is a difference. When you rinse and spit you get a lot more water to rinse off with and you can dislodge more crud. My dentist has a cuspidor and I''ve seen them spray it down with something between patients. I would rather deal with the germs that not be able to spit. My dentist also uses the suction but I get to spit if I ask.
Maybe we should all say what states we are in to compare? Im in CA