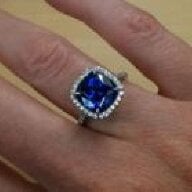 Joined

Sep 17, 2010
Messages

744
Hi All,
A jaunt to the safe-deposit box on Saturday revealed an old ring of mine that I received from my grandmother and completely forgot I had. The last time I saw or wore the ring was 2008 when I developed an allergy to white gold and put it away for safe keeping. After some GIA training, I have realized that 2 of the stones in a not-very-good-looking 1970s-80s rendition of a 3 stone ring are actually glorious OECs!!!!!
Without proper measuring tools at home, I'd guess that the larger of the two is probably somewhere in the 40 point range and the smaller is the 20-25 point range. (The 3rd diamond is about a 20-25 point modern RB with a grisly black inclusion, smack-dab in the middle.) The OECs are probably in the K-M range and, I'm guessing here, probably VVS-VS. I'd like to liberate the 2 from their ugly settings and put them in either Edwardian or Art Deco ring settings. I have to wear platinum, see WG allergy above, but other than that I'm wide open to setting ideas. The diamonds are on the smallish side, but I'm OEC crazy so I really don't care. I think a pinky ring for the little guy and a right hand ring for the slightly bigger one would work.
Does anyone have any vendors to recommend who specialize in *authentic* Edwardian or Art Deco semi-mount settings?
In the photo, the middle stone is the larger OEC and the one on the right is the smaller OEC. Tiny tables, high crown, deep pavilion, and a super minor chip the the girdle, showing it's rich past with my grandmother and her family.
Don't laugh at my photo skills, my cheapie camera doesn't do macro very well.