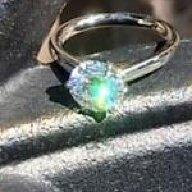 Joined

May 22, 2014
Messages

122
I have a diamond on reserve at
James Allen
and have gotten the opinion of an online diamond pro - she feels its a good stone compared to another that I had previously reserved. I like it but my only reservation is that the online still photo looks less clear than the others I like. I did an HCA and it scores 1.3 and I did the AGA/NAJA and it was a 1A in all categories. The GIA report says the grade is affected by brillianteering. Is the haziness I'm seeing online a result of perhaps using a different camera/settings by the vendor or something about the diamond? This is a Christmas & Anniversary upgrade gift. I would like to order the diamond today or tomorrow at the latest so we can get their Black Friday setting sale. Here's the diamond I have reserved:
http://www.jamesallen.com/loose-diamonds/round-cut/1.50-carat-j-color-vs2-clarity-very-good-cut-sku-681599
Here's the first diamond I reserved that I took off reserve. I liked everything about it except the black spec on the table. The diamond pro I was emailing felt the stone wouldn't be eye clean so that scared me away from that stone. The photo looks nice - more clear. The fluorescence on this stone doesn't bother me.
http://www.jamesallen.com/loose-diamonds/round-cut/1.51-carat-j-color-vs2-clarity-excellent-cut-sku-723948
And lastly here's another stone I found that I haven't gotten an opinion on from the diamond pro I've been emailing. This has an si2 clarity rating and I see the most obvious flaw on the table, but it looks white and may not be noticeable by eye. In the photo the diamond looks more clear than my reserved stone.
http://www.jamesallen.com/loose-diamonds/round-cut/1.51-carat-j-color-si2-clarity-excellent-cut-sku-727998
What is your opinion of my reserved stone? This is a gift and my husband is selecting the setting - so there will be somewhat of a surprise for me on Christmas day. However, I'd like to be happy with the stone and not have to return it after Christmas. My budget is not in the realm of getting a perfect stone - but I want a decent looking, sparkly stone and I like the J color! My original diamond is a .79 i color with an si2 clarity. I don't know any of the other details - as I never got a GIA cert with it - only GIA info on my sales ticket - 30 years ago!
Is one of the other 2 stones better than my reserved stone? Thanks for you input!