Been on PS a bit but mostly CS. Not very knowledgeable about diamonds but I am looking for opinions about whether this stone can be salvaged with a re-cut, what it might cost, and how much weight might be lost.
Friend(ish) bought it decades ago with a 1979 GIA report as follows: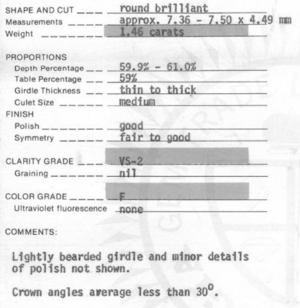 I initially thought it was pretty good because the depth percentage and table percentage were "in range." And it's decent clarity and color, as you can see.
But then I saw the notation that the
crown angle is "less than 30%
." This is amazingly bad, yes? I did a little trig and,
assuming
a crown angle of 30 (and recognizing that it could be even
lower
), I calculated the
pavilion angle at a (similarly terrible?) 44%
. So this must be one of those classic examples that specs well by old-school percentages but has a super-shallow crown and super deep pavilion -- which together account for the "acceptable" diameter for depth!
Clearly, if one were considering buying this, the advice would be "keep looking." But this one is a
sunk cost
(was evidently bought as an "investment diamond" back when that was a thing) so it is essentially a blank slate. Can one make an ideal-cut diamond from this?
I estimate that to change the crown angle to 34.5, I would sacrifice 0.5mm or 6.7% in diameter. To change the pavilion angle to 41, I would lose 0.4mm or 8.9% in depth. Doing the math, it looks like I would lose 21% of the ct-weight to achieve this, even with no other factors,
yielding a 1.16-ct best-case result
. The weight loss is not a big factor since the stone, as I said, is a sunk cost (bought at a bargain price, I'm guessing, some 40+ years ago).
Is this doable and worth doing -- and any idea of the cost? Can retail consumers even get an ideal-level re-cut?
Thank you, diamond experts!