Joined

Mar 31, 2023
Messages

2
Hi all! I've been a colored stone admirer for a while, but have just joined.
I've browsed the forum and have loved looking at all of your beautiful colored stones! Some of the rings and pendants you have designed are beyond beautiful!
The reason I'm posting is because I have a dream ring in mind, but I don't know how to go about translating it into a design that will work and will look proportional.
My dream ring is a bright blue zircon flanked on either side by colorless heart diamonds in a high carat yellow gold. I haven't decided exactly what kind of setting I would like, maybe something with a more detailed basket? In my head, the zircon is either a cushion or oval shape.
This is the type of zircon I am imagining: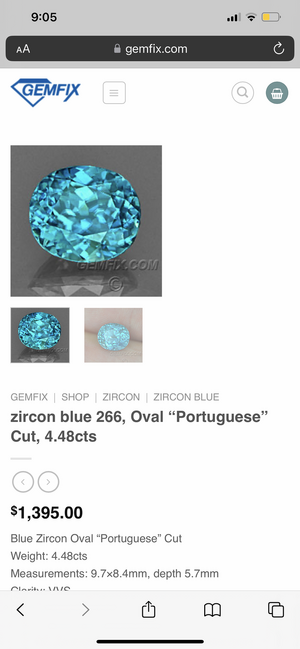 However, I don't know if this size would be too big for a 3 stone ring. I would like the hearts to be proportional, but I also don't want to end up spending a ton of money for side stones (ideally, side stones would be no more than $1000 total).
Does anyone know where I can get a zircon that's similar in tone/color to the above, but perhaps a little smaller, ideally around 2-2.5 cts?
And if anyone is good with design or has inspiration pics that they think may help me in designing this ring, I'm open to ideas!
I should mention, I'm not in a rush to complete this ring. I'm open to waiting a while to find the perfect zircon, and even then, I would not set it right away.
Thanks for any help you can provide!