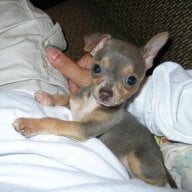 Joined

Dec 16, 2007
Messages

5,184
This past Friday my boss sent me a text message asking if I could please watch her dog from afternoon Friday until Saturday around 9pm. She and her family had to travel for an away sporting event and dog hotel couldn't take her pup. She knows I'm a dog lover and of course I said no problem, that's fine. I picked the dog up, and as I was putting her in my car, the husband mentioned there was an "outside" (his words, not mine) chance that they wouldn't be home until Sunday. I told them that was okay, but to please let me know since it is Mother's Day weekend, I'm in the middle of liquidating my Grandmother's estate and preparing for my IL's visit next weekend. I stressed that this was a very busy weekend for my husband and me and while I'm happy to help I would just appreciate being kept in the loop in so much as it effected the dog and her stay.
So, I get the dog home...and I don't know...the dog is like vicious and not good with other animals. She is an out-of-the-cage dog at her house, which I get, but so are all of mine. She growls at my 3 dogs and even went after one of them despite my best efforts to keep them separated. So I've had to cage her, and naturally she's crying, barking, and throwing a fit all the time. I just kept telling myself "9pm, 9pm".
Well, 9pm comes and goes. At 10p I sent my boss a text message just asking if I should get the dog ready (and believe me, that dogs been ready to go for 2 hours!). My boss texts me back 30 minutes later to tell me that they aren't coming home tonight after all. Apparently the game ran late and they decided to spend the night. Now, I know because of the timeline they gave me when I picked the dog up, the game was supposed to end a 7pm EST--so a full 4+ hours before they told me (10:30CST). She never apologized, just simply told me rather than them picking the dog up at my house on their way home, I should just drive the dog back to their house, which is totally out of the way.
At this point

= me. I feel like I've been totally taken advantage of in this situation. I don't have a problem with the dog staying an extra night, I don't
like
it because it's upsetting my dogs, but I'm not really pissed about it, we can manage. I am, however, furious over the assumption that I didn't even need so much as a phone call or text message to tell me that plans had changed. I obviously can't lay into her over this, she is my boss after all, but I feel like she has truly mistaken my kindness for weakness. There is really nothing I can do other than scream and never pet sit again. Next time I'll just lie--and it kills me to say that--but I will lie my ass off.
Thanks for letting me vent. That isn't how I, as a pet owner, would do things if someone was watching my dog for gratis and it astounds me that other people think that sort of thing is not only acceptable but actually do it.