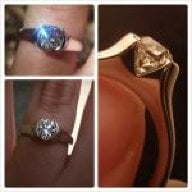 Joined

Oct 2, 2008
Messages

4,946
Hi Rhino

Many threads lately our wonderful PSers have been pointing newbies towards
GOG
for purchasing diamonds. In helping (with what I can and know) in Rocky Talky, it seems like some of the hangups are in dealing with settings for the stones, and it got me to thinking.
Many consumers LOVE LOVE LOVE your diamonds, and knowledge, and customer service, but some are, honestly, less impressed with the setting side of the purchase.
I've heard that your website may be getting revamped soon and make it easier to look at available settings, etc...any truth to that?

Also, you do work with some specific designer setting vendors like Verragio and
Ritani
...are there any plans to add more to the inventory in the future? I know some other popular designers used for settings that I would love to see carried at
GOG
, and I'm sure other PSers who adore your cuts and these settings wouldn't mind either! A few designers that come to mind that are frequented on PS include Beverly K and Sholdt Design.
Many of the new shoppers seem to be looking for more of a 'one stop shop' and seem to be going with the vendor who has the setting they want for their diamond purchase to keep it all in house
I know in my time here at PS, I happen to know that you carry LOTS of settings and have a ton of options, but it would be lovely if your website was a bit more user friendly on the setting side of things...and the more choices, views, pictures, the better.
Thanks!!
audball