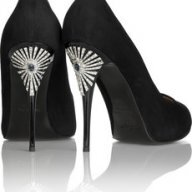 Joined

Jun 11, 2008
Messages

154
My bf and I are thinking about eloping to New York next year and I had always considered the reflection pool area at Top of the Rock at 30 Rockefeller Plaza to be the perfect place for our ceremony and pictures afterwards. It seems to show off the best of New York and I thought it would look amazing in the pictures. If we go ahead with our plan to elope we really want something that is no fuss and simple. We are both from Sydney and New York is my favourite city hence the decision to get married there and then continue on to Europe for the rest of the trip.
So I emailed Top of the Rock and explain my plan and stated that I only wanted the space for an hour or so and would they mind providing me with a quote. The lady emails me back with a generic email quoting $20,000 and what that includes (clearly she hadn''t even read what I set out in my email)! I write back again and re-state what I wanted the space for, probably an hour or two and that we didn''t need to have dinner at the venue or any of the other extras she suggested in her email. I said I was happy to have the ceremony during the week and we are flexible with the time and date.
So the lady writes back to tell me that the best price they can give me to rent the space would be $5000 for 2 hours!!!!!
I am so cranky

I cannot believe that they consider $5000 to be a reasonable amount to charge for what we want!!!
I was hoping someone could suggest a spot in New York (perhaps somewhere in central park?) that would be a great spot for the ceremony and some pictures afterwards. The only other place I can think of is the roof space in the library hotel (which is where we plan on staying) but I am not convinced that it would be suitable for a wedding.
I have attached a picture of the reflection pool area at Top of the Rock as I thought it might help. Sorry, I couldnt'' figure out how to make the picture show up in my post!
Thanks in advance!