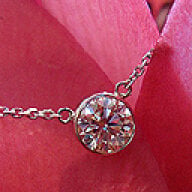 Joined

Oct 30, 2002
Messages

31,003
Yesterday we took our diamond into the independent appraiser we chose (referred by Pricescope), and after a short chat and reliquishment of the stone and my pair of diamond earrings to her for appraisal..my boyfriend brings up my 'diamond obsession'. I thought he was going to ask another question about the appraisal, instead he says..'well you know Mara has learned alot in her quest for this stone' etc..and then proceeds to ask if I can further my knowledge by taking a class or two in gemology or diamonds.
The appraiser was surprised and so was I! I had no idea he was going to ask this. It was quite funny, but somewhat embarassing as I felt a little put on the spot though I don't really know why. So she gave us some information and a GIA class list that she had just received, and suggested I sign up for a class or two or the entire Diamond program! The prices aren't too bad, and my other half said he would get me a a few classes or the program for V-Day if I was interested.
Anyhow, my question to the other obsessed diamond hunters on this forum is...in saturating yourself with diamond knowledge in the hunt for the perfect stone for yourself or your fiancee, has anyone begun to consider a career in gemology or similar? I already have a career plan/path in Marketing that I have been well set upon for some years now, but I am very much game for broadening my budding diamond knowledge and taking a few classes so I can continue to bore my non-diamond-interested friends with more chatter. Anyone else?