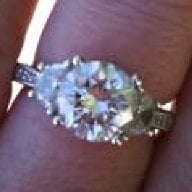 Joined

Jun 18, 2010
Messages

5,765
NewEnglandLady said:

amc, just wanted to tell you I'm thinking about you and wish you luck this week. I know you are so, so uncomfortable, but you are almost there!! Just a few more days and then you can rest in the hospital (which is a joke, but only partially). I can't wait to hear about how this all goes down and see some pics!! GOOD LUCK!
Thanks, NEL! It's funny, my OB said I could possibly go home after two nights if everything goes well. I told her no thanks, I'm staying until kicked out.