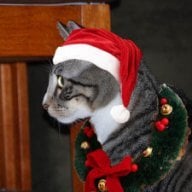 Joined

Dec 3, 2007
Messages

2,392
I figured I''d start a thread so I can feel bad about how far behind I am with everything!!! Wedding date is April 25 and according to my Facebook countdown that is just 76 days!

I have a dress (!!!) and I''m working on adding beads to my veil to give it a bit of sparkle. Flights and hotel are booked, I picked out the restaurant where I want to eat after the ceremony.

Still need to:
Decide on wedding bands
Pick out K''s clothing
Make invitations (gotta get on this!)
Put together small favors for people. We only have 8 guests coming and are doing "welcome" baskets for everyone. I''m planning on picking up most of the basket goodies once we get there, but I want to pick up a few things before we leave.

I''m sure there are a ton of things I should be doing but I haven''t thought of!