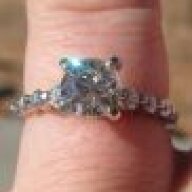 Joined

Nov 20, 2008
Messages

755
I am Jewish and my fiance is Catholic, and neither of us are really practicing, although I am more in tune with my faith than he is. Our goal is a secular ceremony with heartfelt and meaningful elements from both religions (i.e. the chuppah, glass breaking, peace handshake, etc)

Did anyone out there build their own chuppah? Do you have pictures/tips? It''s really important to me to have one, and I don''t really want to rent it, if I even CAN rent one.

And does anyone have tips on little things I can pull in to make the ceremony more personal? I''d like some kind of compromise between writing my own ceremony completely, and using something totally "stock"?