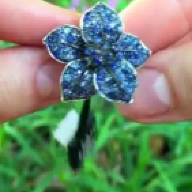 Joined

Nov 14, 2015
Messages

889
So I always hear it. You can't not hear it. We have the MOH's scale and it definetly serves a purpose (duh). We always hear how one gemstone over another is better or not better to wear (especially in a ring) due to fragility in some way; Stratching, Abbraiding, Chipping, Brittleness or even splitting right in half!
Now cearly the above is true, it's just a fact of life for minerals. But I want to see pictures. I want to see those stones that we all know won't stay in *absolutely pristine* condition, NOT when they are brand new like we usually see on PS but after some years..
It's always
said
after a few years softer stones (Tanzanites, Tourmalines, Garnets, Appatities ((crazy!!!)), Sphenes etc etc etc) will show wear and facet abrasions; I've even read very old PS posts where people describe their beautiful faceted soft stone as now cabs

after a year of wear.
But I've never seen any pictures!!!
Can we have this thread like a visual educational/satisfy my inquisitiveness thread that essentially shows softer gemstones after many years. Please include details like how long you've had it, how you've worn it (frequency and whether with 'care' or not) and if you have it a pic of it when it was brand new.
I've read a lot of TL's posts saying a few of her tourmaline rings have chips and dings so please, please can I see them?!
Additionally this is not just limited to rings. Let's see softer gemstones set in earrings and pendants too, if only to compare like for like (eg both owned and worn the same amount for 10 years) how exactly those pieces of jewellery compare with rings.
Thank you!