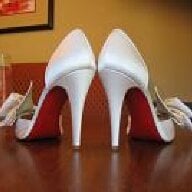 Joined

Nov 13, 2007
Messages

5,720
I have apprx 175 invites, and my mom mentioned only having family and a few others (probably around 100 of the invites) done by the calligrapher, and then doing the rest either by hand or printed(ink-jet) calligraphy.
I found a great deal at $1.50 for both inner and outer envelopes, so cost really isn''t the issue, but we''re talking about saving around $150-200. The people we would be leaving out would more than likely be college friends, not in the wedding.

Has anyone ever heard of not having all of your invitations done with hand calligraphy? What are your thoughts?