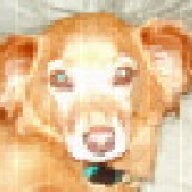 Joined

Feb 23, 2008
Messages

60
I really could use your help/suggestions. We are getting married May 23rd (OMG we''re less than 2 months!) and plans are coming together nicely except......I''m really having a hard time finding anything I like for a cake topper.
Wedding details: very small wedding (about 25-30 people.) Ceremony to be held outside in a lovely garden courtyard of a local restaurant. The restaurant used to be a house so it''s old and charming. Lunch reception to follow inside. We are both avid wine lovers so the "theme" if you could call it that is vineyard/wine kind of thing. The cake is a small 3 tiered cake with butter cream icing overlayed with a fondant "lace" which has grape clusters in the design. It''s beautiful. Cake will be sitting on a silver cake stand embellished with grape vines and grape clusters.
I have been looking for something that carries that theme through on the cake topper but I''ve not found anything that I love. My FI thinks he''s hilarious by suggesting I stick at wine bottle stopped on the top. Yeah, I''m still going to marry him!

Would love to hear any ideas you may have. Thanks so much!!!