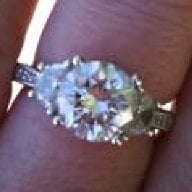 Joined

Jun 18, 2010
Messages

5,765
Okay, so our wedding timeline is something like this:
10am- Bloody Mary/Mimosa bar opens; cheese trays, mini-bagels with smoked salmon, etc. served.
10:30-10:45am- Ceremony (not sure it will even take 15 minutes)
10:45am-12pm- brunch
12:30pm- everyone boards the bus to get to the cruise terminal
So, obviously a morning event and fairly casual and low key. The question is do we have a cake. We were thinking of doing cupcakes. I still like the idea of a cake, more for the ceremonial part of feeding it to each other, I always love that part of a wedding. Our guests are probably going to be pretty stuffed after the brunch (eggs benedict, crab cakes, fruit, pastries, etc.) and most of us will be boarding a cruise which = week long food fest.
Then I saw this cake -
http://www.cakesbyjp.com/wedding-cakes/wedding-cake-gallery/img_0435/
which is adorable and would be perfect (our colors are light blue, so it really would be great)....but probably on a smaller scale since there will only be 40 of us. Then I was thinking maybe cupcakes and a mini-cake for us to cut into. Keep in mind that we won't be able to take any of this with us, so whatever we don't eat will stay there, including any sort of anniversary cake layer. Does anyone have any suggestions? Another idea is fruit in chocolate cupcake bowl thingies (imagine a cupcake liner made of chocolate, and then that is filled with strawberries or whatever).
Problem 2 is the favors. We will be handing out gift bags for guests who are sailing with us...those will be specific to the cruise and will be in those guests' rooms. I want to have a traditional favor as well, since whether or not guests are cruising, they still traveled thousands of miles to attend the wedding. I was thinking about custom luggage tags (like this
http://www.candlesandsuch.com/flip-flop-luggage-tag.html
but that seems like something people would need before traveling, not half way into their journey. Candles are out because they aren't allowed on the ship. I'd love to keep it beach themed. Ideas?
Thanks!