I'm in the process of creating my engagement ring with my boyfriend. I really like the look of the tacori 2620 halo. The problem is my center stone is .75 whereas most of the rings I see with that halo are over 1.5. I love this halo:
https://www.pricescope.com/community/threads/bgd-custom-ring.165136/#p3008175
but he would have to change the setting to be able to add more smaller diamonds to the halo. I like the square-ish look in the link and I think mine looks like flower. I'm not sure what size the halo diamonds are but I have emailed them to ask. I think mine are too big given the size of the center stone. The center stone will be lifted so the halo will be under the center stone.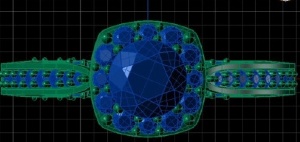 I haven't looked at very many CADs so I would like your opinion too, am I crazy or do you see the final product looking like the url?