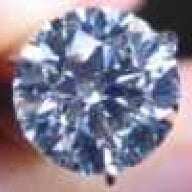 Joined

Nov 29, 2006
Messages

804
So, I took the plunge and bought the diamond from
WF
. . . we are having it shipped next week.
That brings me to my next question. Do, I get this diamond appraised when it arrives? Or do I make a decision on it without an expert opinion and wait till it is set into a setting before I get it appraised?
IF I get it appraised now, will I have to get it appraised again once it is set? For insurance purposes or verification or both?
I feel comfortable making my own decision on diamonds since I have seen so many of them now, but the strong blue fluor is giving me pause about evaluvating it myself. If all I needed to decide on was the 4 Cs . . . but that strong blue fluor makes me wonder if I would know if this stone has detrimental visual effects? What would you do, if you were me?
Thanks guys, I apologize for the frenzied posts lately, I REALLY do appreciate all your help.