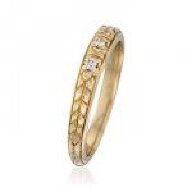 Joined

Feb 15, 2011
Messages

9
While browsing an antique mall, I found what appears to be a very nice .80 diamond set in a 4-prong platinum ring. The price is $950.00. BUT, there is no documentation, no specs given, and oh, no return policy!! Yet, I have to admit I'm still a little tempted just because it looks so nice.

The antique mall is reputable, but each item is sold on commission from individual dealers. I don't doubt that it really is an eye-clean diamond and that the ring is correctly marked as platinum, but it's just nuts to buy with a no-return policy. Still, I just keep thinking about how nice it looks and I know I couldn't afford that size and that metal in the standard retail market. Throwing caution to the wind just isn't my thing, but there's a part of me that wonders if I am making a mistake by not at least considering it.

Has anyone here ever purchased jewelry from an antique mall under similiar circumstances and NOT regretted it?