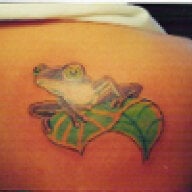 Joined

Dec 12, 2008
Messages

10,614
I need a new laptop. Mine totally conked out and I just turn it on now to charge my fitbit battery. Not sure if I can get the pictures off of it or not?? Have to take it down to the computer place in town I guess.
That one is a Sony Vaio. Got it three years ago. I don't even think they make them anymore haha! We went to play w/laptops at Best Buy a few weeks ago and the guy helping us gave me this look like I didn't know what I was talking about when I said the one I was replacing was a Sony Vaio. It was a touchscreen also.
All I need it for is looking at jewelry and tattoos. Getting on a couple forums, FB, gmail. Browsing Etsy and Ebay, youtube, that sorta thing. I don't play games. I like to have multiple windows open at once and I want things to look nice. I don't need a huge screen.
When we played w/them at Best Buy, we looked more at the 2 in 1's that can be a laptop or flip around and be a notebook or they can be tented etc. Of the ones we looked at, there were three I liked the best.
http://www.bestbuy.com/site/hp-spectre-x360-2-in-1-15-6-4k-ultra-hd-touch-screen-laptop-intel-core-i7-16gb-memory-256gb-solid-state-drive-natural-silver/4864800.p?id=bb4864800&skuId=4864800
http://www.bestbuy.com/site/dell-inspiron-2-in-1-15-6-4k-ultra-hd-touch-screen-laptop-intel-core-i7-8gb-memory-1tb-hard-drive-black/4454002.p?id=1219749483916&skuId=4454002
http://www.bestbuy.com/site/lenovo-yoga-900-13-3-2-in-1-touch-screen-laptop-intel-core-i7-16gb-memory-512gb-solid-state-drive-silver/4529000.p?id=1219758515061&skuId=4529000
I don't know exactly how much I need for memory, all three of those are different combos, and that's mostly b/c when I was looking for the models online I noticed oh well, this one is 8GB and I could get 16 for $200 more, so I saved that link.
The laptop I use at work is a little MacBook Air, teeny lil thing, super light. The screen is small compared to what I had, but it's not a big deal to me---I use it sitting here curled up on the couch while I watch tv so it just makes it easier to have a smaller one I think!
The guy at BB said an i7 is what I want, and I'm not sure what my Sony was, so all those above are i7's.
If anyone has any thoughts or advice on the links I posted, the memory, i5 vs i7 etc, anything, I would love to hear! For now I'm bringing my work laptop home w/me.
I'm not very techy at all..I just typed on the keyboards at BB and fondled them to see if they felt nice on my fingers and the keys weren't clunky and irritating to me. I can't stand using JD's laptop--it has the finger touch pad but then it also has two longer keys you have to click for different things and I hate it.