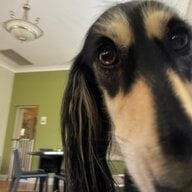 Joined

Jan 22, 2014
Messages

4,119
It's no secret I'm an eBay addict (currently in hiatus due to down down Aussie dollar) and while I have had some scores, I've also made mistakes.
I have a nice collection of vintage watches. Sometimes even fabulous quality watches have a "meh" watch band ie gold fill or plated so I'm always on the lookout for solid gold watchbands to swap across.
One particular watchband I bought was in beautiful 14kt rose gold, very pleased I was until it arrived and I realised it was too short for my wrist with the intended watch installed. Sigh. Into the drawer it went and there it stayed for 10 years.
Enter a mangled Georgian Brooch courtesy of my mother and her drawer that she drops her mistakes into. Perhaps I could sell it for her, gold melt value.
Ah ha moment. Took it into my jeweller and got it straightened, had two diamonds that had fallen out repositioned (the pin attachment was already broken off) and voila.
My new bracelet.
And another mistake. I bought the diamond set watchband sans watch movement and glass for basically melt value. What use is it ? I have a nice Elgin watch movement in a gold fill watch case and I was sure the movement would just "swap across". It didn't. And to add insult to injury, again the watch band was too short to fit my wrist. Grrrr again.
But wait, just as necklace extenders exist, so too do watch band extenders. And looks good too. But the missing watch movement? Well, one of my jade earring studs is a perfect fit. And without access to a jeweller I came up with my own "setting method". I just glued the jade onto a piece of rigid clear plastic, cut to fit, packed out the extra space behind with aluminium foil and I'm good to go. And the added bonus is I can make up different "centres" if I want and swap them into the space.
Yay.
$250 for the 14kt gold watchband and $70 work by the jeweller with the early inheritance from my mother of the mangled brooch.
$200 for the diamond set watchband, $8 for the watch band extender and something to do with the jade earrings I bought and thought, 20 years ago, were emeralds.