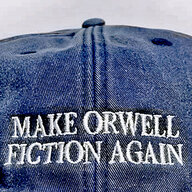 Joined

Apr 30, 2005
Messages

32,287
It has a microphone, signal processing and a speaker.
It picks up the snoring sound, produces and broadcasts a copy that is 180 degrees out of phase.
Since they are out of phase they cancel each other out so nothing is heard.
It's the same technology used in those noise-canceling headphones.
Applying this old technology to snoring is brilliant.
It's expected to be available later this year.
It'll save some marriages.
Our doggies need them.