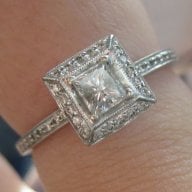 Joined

Apr 27, 2008
Messages

896
All right this might not be the right section of the forum, but since I''m a LIW not a bride, I think it''s more for everyone!

So I''ve been watching Bridezillas on demand this whole weekend. Does anyone like/have seen this show? The one I am watching right now is INSANE! This girl is 23 and her motto for her wedding is "I don''t have fun, there won''t be fun at my wedding. I own my fiance. Cory isn''t allowed to hang out with his friends without me because I don''t trust them. He won''t see the light of day after this wedding."

Like this show, there are many other shows that I can''t even believe- WifeSwap, Super Nanny, etc. BUT this girl is INSANE!!!!! If anyone wants to see it, it''s under WeTV ondemand. I guess the point of this thread is to talk about these shows that have appalled you. I am just sitting here with my jaw on the floor lol. Has anyone ever seen a bridezilla in real life? I know I have read a few threads, but this girl is OTT.