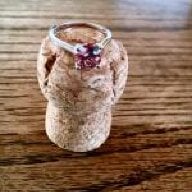 Joined

Apr 9, 2008
Messages

412
I''m bored, I''m currently waiting for SO to get off work so that we can go home... We carpool to work, as we only work a couple of blocks away from eachother. Well I''ve been off work since 3:45, and am waiting for him to be done...

I want to go home so that I can go running... I''ve run 13 miles since Monday!!! 5 Monday, 3 Tuesday, and 5 yesterday, I''m thinking about only 3 or 4 tonight... I have a new trail I want to try, it''s only .75 miles so I could do it a couple of times... but it''s beautiful and so worth it... I''d post a pic, but can''t find one on the internet, maybe I''ll take my camera and take some pics to post later...

SO saw me looking at PS the other night and was like what site is that...I told him not to worry about it, and then I showed him the Show me the Ring forum... He''s so cute, he goes "I like the round ones", and then I showed him a princess cut he says, "OOOOooo I like the square ones"... I had to kiss him!

SO and I are thinking about going to Vegas at the end of June... we want to stay in that one with all the fountains out front... any one stayed there? how is it, and what is there to do besides gamble??? suggestion PLEASE!!! We need a vacation so badly! I''m starting to get tired of where we live and want to move, but at the same time not, confusing? yeah me too!

yey, that''s my phone ringing, and he''s on his way, Got To GO...