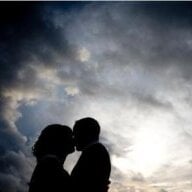 Joined

Nov 5, 2007
Messages

7,353
We did a marathon dress trying on session this weekend, with good results...I think. After 343535 dresses tried on, here''s the one we''ve decided on. It''s Bill Levkoff #420 in this color. These are FI''s sisters, all three have completely different body types, and the fourth BM is similar to one of them just bigger. They look better in person; the lighting in the studio was terrible. Yeesh.
I do have some reservations about it though... They''re so bridesmaid-y!

For $200, I would have loved them to get something rewearable, but my vision was a long dress because it''s winter and nighttime, and that style isn''t really conducive to that. I feel guilty about making them spend that much on a dress that couldn''t possibly be worn again. What do you think? Keep looking?