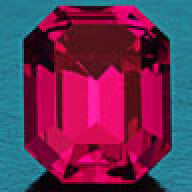 Joined

Aug 13, 2008
Messages

619
The ideal colored stone has medium tone with intense color saturation. If a gem is too light in tone, it is brilliant, but weak in color. If it is too dark, it can have saturated color, but little brilliance.
Blue gemstones could include aquamarine, blue sapphire, blue topaz, and blue tourmaline, plus iolite and others. Blue gems are more difficult to find in medium tones and high saturation, than any other color.
Aquamarine, in even its deepest tones usually falls short of medium tone, and is not very saturated. Blue sapphire, in medium dark tones, is the finest blue in the gem world. But even the finest is not very brilliant. Most sapphires are too dark, and the light to medium ones have low color saturation.
Blue topaz, in swiss blue color, has good tone and color. But while this gem topaz is natural, the color is created by man, so it has limited appeal to gem lovers.
Tourmaline, in all of its colors, comes more often in medium tone than just about any other gem. So for TL and me, it is our favorite gem. But the darkest tone of tourmaline is blue, and it is quite rare. Almost always, it is too dark. One reason, besides dark tone, is that nearly blue tourmalines absorb all light traveling down the c-axis. Many green tourmalines (but not chrome tourmalines) do this also. If you hold your blue or green tourmaline up to a bright light, and sight down the long dimension, it appears black.
This tourmaline below has exceptional brilliance for a blue tourmaline. One reason is that it does not absorb light down the c-axis. 1.85 cts, opposed bar cut, from Afghanistan: