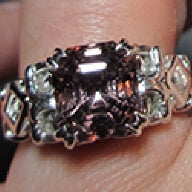 Joined

May 1, 2011
Messages

248
Hi all
My mother has heard me speaking about spinel and my love for the stones etc.
She was going to get these earrings for me for my birthday but then freaked out when I told her
there were lots of synthetic spinel and a ton to know about buying colored stones etc.
Anyway, she was really proud of herself for finding these and honestly, I know nothing about the
site or much about mahenge/costs etc.
Just need opinions on them if you have time.
Thanks!
Mahenge and diamond earrings