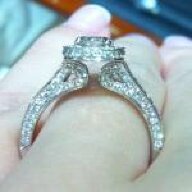 Joined

Aug 4, 2011
Messages

112
After at least 10 visits to the jewelry store, I have narrowed my long search for the perfect engagement ring down to 2 different diamonds. I decided on the setting after the first two visits or so.
The two diamonds I am trying to pick from are....
Diamond 1:
Cut: Daussi Cushion (rectangular)
Color: J
Clarity: VS1
Weight: 0.9
Fluoresence: none
Diamond 2:
Cut: Daussi Cushion (square)
Color: D
Clarity: I1
Weight: 0.75
Fluoresence: Faint-Medium
The wow factor on Diamond 1 is that it looks HUGE! Henri Daussi cuts his diamonds so that they "face up." They appear 20% larger than the actual weight. This diamond is just under a carat, but it looks like it is almost 2 carats! It has very chunky facets which I LOVE and is very, very sparkly. My beef with this diamond is that it is a J in color, and although that is in the near colorless range, I can see a faint yellow tint to it at certain angles and in certain lighting. I think I could live with it, but it MIGHT bother me.
Diamond 2, on the other hand, is colorless. It's the whitest diamond I have seen so far! The drawback on it is that it is smaller, and it is lower on the clarity scale. However, even though it is an I2, it is eye clean. It has a decently large pinpoint cloud on the very edge of the diamond which I could only see with the 10x loop, and then i got a closer look at it under the microscope. I also has a small pinpoint in one of the corners, which is covered up by the prong. No matter what angle or lighting I held it in, I could not see a single inclusion with my naked eye. The middle of the diamond is totally clear! it is VERY beautiful, but I'm worried about it being too small.
I also can't decide on which shape looks best on my hand. The square or the rectangle? I honestly love them both!
I need to make a decision ASAP! These diamonds are on loan to my local jewelry store from Henri Daussi New York. They sent them to my jeweler for me to look at.
The plan is to take one of them out of the setting it is in and put it in the setting they make for me. I have a size 4.5 finger so they have to use a different mold. Apparently the settings they already have made can't be sized from a 6.5 to a 4.5 due to the diamonds in the side.
The pictures below are of the smaller, D colored diamond. The setting it is in is NOT my setting. I will post pictures of the bigger J diamond under this. The setting that the J diamond is in is already in the setting style I will have made.
Any advice will be greatly appreciated. I have read so many posts on here that have been very, very helpful!
Thanks in advance!