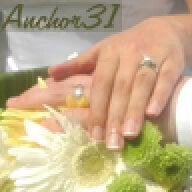 Joined

Oct 18, 2005
Messages

7,074
FI and I are planning on starting booking in the next couple of months. I was going over the things we''d decided on and I really started to get some doubts about the wedding we were starting to plan... Some of you may know that my dream wedding was a small informal outdoors day, but as we started planning, our day fast became a big formal indoors thing. At first I was sort of "going with the flow", but when I stop to think about it, I''m not happy with it. I want some of it to be outside, I don''t really care for fancy tuxes and floor-length BM dresses, and our families are just so darn big we can''t invite friends. And then there''s the money issue of course... My parents will pay 50% of the wedding no matter the cost, but FI and I will have to pay for the other 50%... and we''re a young couple, just starting out and trying to save up for a house, I don''t really want to dish out 5000$ on one day...
I had a talk with my mother this morning. I told her this formal fall wedding thing was really starting to scare me, and we started talking about an alternative. What if we had our catholic church ceremony at 11AM followed by a cocktail/lunch at the golf course near the church (outside if the weather allows it), a kind of semi-formal event with only our close family (parents, siblings, grandparents and Godparents) and close friends (30 people tops)? We could have it in early August instead of late September, the men would wear suits and the girls light dresses, and voilà. Then my new hubby and I could have a mini-moon for the rest of the week-end at the countryside hotel we were thinking of having our reception at.
Of course, I am going to talk to my FH about this, but he''s in Edmonton until March so I have to schedule a "webcam date" this week...
Thoughts?