Hi everyone. I'm a very noob here. I am in the process of putting together an engagement ring for my (hopefully) fiance. She is 100% in love with a ring we saw at DeBeers when we were style / design shopping: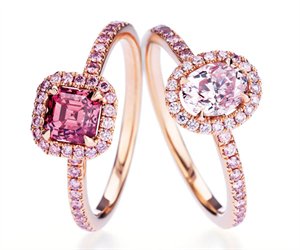 [
The cushion cut one on the left
] The ring in the picture is ~0.5 - 0.7 carats fancy vivid pink with a (what looks like) lighter pink pave on rose gold.
She is absolutely in to the pink and personally now I'm crazy about it too, I think it looks incredibly delicate and feminine.
After looking for a center stone for the past 4-5 months, it's now arriving from Antwerp, Belgium: 0.67 carats, 5.20mm - 5.10mm top, 2.9mm height.
So, could you folks help me by suggesting the best place that can make this exact setting? I have seen similar looking ones, but none seem to have the delicate look of the DeBeers version. As for side stones, I don't mind if there were not diamond, but I'm told the price difference is negligible since they are a type of pave. Oh yeah, NYC area preferred.
Thanks!