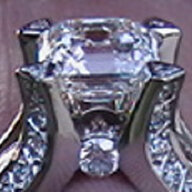 Joined

Jan 16, 2006
Messages

807
hello all, and, sorry to bring up an older topic. but, for some reason, i couldn''t reply to the original post...but wanted to thank a few folks for even mentioning my insane diamond/setting journey... a gooood, crazy time was had by all...

wallermama, decodelighted...you folks were always super supportive. thank you!

monarch64 and gailrmv...thank you both too!

and, of course, many other pricescope folks who gave me insight and inspiration. i''ll never forget my experience here...

''we'' all took part in what my wife wears on her finger....thanks folks!

most warmly, ron...