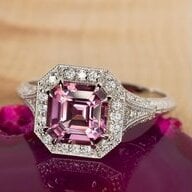 Joined

Aug 19, 2009
Messages

5,757
I was going to wait until it got here, but it seems to be stuck in transit and I am impatient
it was supposed to arrive Thursday but hopefully will be at my office tomorrow...
This project started as a possible sapphire ering reset and/or upgrade, until I learned that my DH is super attached to my ering and would only like it replaced if he replaced it at a later date. I am fine with that but it will likely be a long ways down the road. So, RHR it is
I started looking for a step cut sapphire, but realized that I wanted to keep the sapphire as just my ering stone. So, I started looking at pink and purple spinels. Freke helped me find a lovely purple spinel cut by Peter Torraca. It is in transit and I hope that it will be "the one".
Here are Peter's photos and a collage of my top three inspiration settings/concepts.
I am calling this my "Genevieve" ring. It seems to fit the stone/settings I have in mind. Also, we are TTC #3 and would be thrilled with a boy or girl. This ring seems quite girly and Genevieve is on our short list of girl names (though likely not the top contender), so it seems to fit our life right now as well.
Since I seem to do a project every 5-6 years, I am going to document the fun here