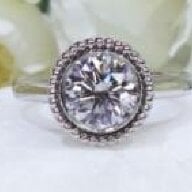 Joined

Dec 18, 2011
Messages

77
I'm in the beginning stages of a having a custom bezel setting made for my reset, and sooooo excited! Hopefully, I will have CADs soon to share! They were supposed to get emailed last week, so while I'm impatiently waiting, I can't help but obsess a little over some small details. So some background...I'm going for a modern/sleek but also feminine and refined aesthetic (I consider my current setting to be modern/bold but too masculine). I would like to add some detail to the face up view of the bezel, but don't want to veer too far into the vintage look. I was originally inspired by a Brilliant Earth setting, where the beading is outside the bezel ring, sort of like a metal halo. These beads are quite large, though. I would be worried they might overwhelm my 1.22 RB. My goal is to highlight my stone, perhaps even make it look a little bigger

if possible! So here are my questions, all thoughts and opinions welcome!
1. Location. Should the beading/milgrain be up against the stone or outside the bezel? Which would enhance size the most without looking clunky? I was thinking maybe up against the stone since it would blur the difference between the stone and the metal, and then they eye would see the polished outer rim of the bezel as the border of the stone. But my concern would be that beading would add height to the bezel, obscuring some of the crown from the side view, thus losing some sparkle. If the beading is outside the actual bezel, I'd want it to be on a lower plane, so that the tops of the beads are no higher that the girdle of the diamond.
2. Size. Trying to keep a sleek look, but don't want the beading to detract from the stone. What size do you think would work best, and how would you best communicate this to the designer?
I've attached some pics to demonstrate the difference of the inner versus outer beading and larger versus smaller beading. The first pics are the Brilliat Earth design and the last is GemFever's beautiful Audrey in a
BGD
bezel. I could look at that ring all day!