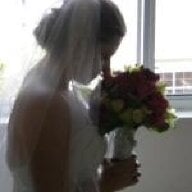 Joined

Feb 20, 2009
Messages

5,496
OK, so remember how I said he bought the ring? Well, I found out today that the card he used to buy the ring was flagged because the purchase was too large (He hadn''t used that card for this particular reason, so he could buy the ER with it!!!) So the card company declined the purchase. He had to call to remove the flag and verify he made the purchase, his identity and a whole bunch of other bs.
The settings that I made for him to choose from were spectacular, but the diamond was ok. I was a little wary about the depth and table size of the diamond, so I looked on whiteflash.com and found a gorgeous expert selection diamond and a decent setting for a little more than the price of each of the three rings I presented to him to choose from. (The other settings with a diamond of
whiteflash
''s quality would''ve been wayyy over budget, by $1000). I don''t know how to view this, like is this a sign that I wouldn''t have been happy with the diamond?
I think I''m taking this as a sign to pick a better quality diamond with a decent setting.
Am I reading too far into this? What would you ladies do if you were in this situation, go with an ok stone and a spectacular setting, or an amazing diamond with a decent setting? I''m just looking for some advice. Thanks!